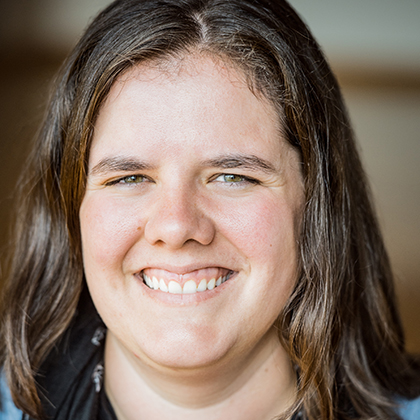 Productions at the National Theatre School
| Year | Role | Play | Playwright | Director |
| --- | --- | --- | --- | --- |
| 2017 | Stage Manager | Théâtre jeune public | Gabrielle Chapdelaine, Julien Beauseigle-Laniel, Liliane Gougeon Moisan | Véronique Côté |
| 2018 | Technical Director | La retraite | Gabrielle Chapdelaine | Philippe Cyr |
| 2018 | Technical Director | Une journée | Gabrielle Chapdelaine | Philippe Cyr |
| 2017 | Head of Sound | Spectacle de chant en tournée | N/A | Catherine Gadouas |
| 2017 | Sound Design | Parasites | Marius Von Mayenburg | Adam Faucher |
| 2017 | Production Manager | Les trois sœurs | Anton Tchekhov | Florent Siaud |
| 2017 | Head of Sound for Monitor Mix | Spectacle de chant avec orchestre | N/A | Monique Richard et Catherine Gadouas |
| 2017 | Head Electrician | Jumeaux fantômes | Mario Laframboise | Éric Jean |
| 2016 | Technical Director | Vertiges | Adam Faucher | Adam Faucher |
| 2016 | Assistant Stage Manager | La peur du loup / Pique-Nique (Théâtre jeune public) | Mario Laframboise / Pascale St-Onge | Félix Beaulieu-Duchesneau |
| 2016 | Technician | Tabula Rasa | Jean-François Rochon | Isabelle Leblanc |
| 2015 | Assistant Technical Director | Quartett | Heiner Müller | Solène Paré |
Training at the National Theatre School
Under the direction of Louise Roussel and Catherine La Frenière
Stage Techniques : Charles Maher, Nicolas Ricard Construction Techniques : Guillaume Simard Carpentry and Welding : Christian Larochelle, Guillaume Simard Technical Drawing : Charles-Antoine Roy AutoCAD and Vectorworks : Jean-Philippe Charbonneau, Anne-Catherine Simard-Deraspe Scenic Painting : Véronique Pagnoux Costume Design : Jill Thomson Electricity and Graphic Lighting Standards : Anne-Catherine Simard-Deraspe Lighting Technology : Nicolas Ricard, Guy Simard Rigging : Magali Marcheschi, Marieke Séguin Sound Design Technology : Frédéric Auger, Richard Bélanger, Jean Gaudreau, Richard Soly Lighting Design : Nicolas Ricard, Guy Simard, Martin Sirois Lighting Laboratory : Christian Lapointe, Guy Simard Video Design : Yves Labelle, Lionel Arnould Sound Design : Catherine Gadouas Theatre Design : Frédérick Moreau Central Project : Marie-Hélène Dufort, Catherine La Frenière Stage Management : Manon Bouchard Production Management : Lucie Juneau Technical Direction : Éric Lapointe Tour Management : Louise Roussel Text Analysis : Alice Ronfard Administration and Accounting : Stéphane Dumont, Francine Lalonde d'Entremont History of Theatre : Diane Pavlovic, Étienne Liblanc Mythology and Dramaturgy : Alice Ronfard Text and Design : Kevin Williamson Writing Workshop : Guillaume Corbeil Project Coaches : Richard Bélanger, Cynthia Bouchard-Gosselin, Richard Desrochers, Andrée-Anne Garneau, Catherine La Frenière, Lucie Juneau, Emmanuelle Nappert, Émilie Martel, Pierre Phaneuf, Louise Roussel Lighting Masterclass : Martin Labrecque Sound Design Coaches : Alex Gendron, Patrice d'Aragon
Professional Experience
| | |
| --- | --- |
| 2016-2017 | Carrefour international de théâtre - Logistics assistant and head of transportation, Quebec, QC |
| 2017 | Street theatre event - Runner, Celebrations of the 375th anniversary of Montreal, Montreal, QC |
| 2016 | ComédiHa! - Stage Manager, Théâtre la Bordée, Quebec, QC |
| 2014 | Theatre Festival of Université Laval (FTUL) - Member of the production committee, Quebec, QC |
Related Training
| | |
| --- | --- |
| 2015 | Fall Protection Level 1, Nouvelle Hauteur, Inc., Montreal, QC |
| 2015 | First Aid Level 1, Heart and Stroke Foundation, Quebec, QC |
| 2011-2014 | Bachelor of Fine Arts (BFA), Theatre, Université Laval, Quebec, QC |
| 2008-2011 | DEC Music, Cégep de Drummondville, Drummondville, QC |
| 2008-2011 | DEC Arts and Lettres: Litterature, Theatre and Cinema, Cégep de Drummondville, QC |
Professional Interests
Stage / Production / Tour Management, Technical Direction (in the field of Theatre, Festivals, Music, Dance and Circus).
Related Skills and/or Interests
Working knowledge of AutoCAD, QLab, After Effects, Adobe Premiere, Millumin, Office (Word, Excel, PowerPoint, Outlook). Class 5 Driver's Licence. Educated in music / percussion and art / theatre / cinema history.